The postcard seen here was written on Nov. 8, 1917, by Kenneth Chester (1895-1976) to Morgan Topping of Wainscott, probably H. Morgan S. Topping (1873-1954). Chester expressed his optimism about the future of his fellow recruits, who looked like the men pictured. The postcard shows a group of men lining up at Camp Upton in Yaphank to receive their new uniforms and start training as soldiers during World War I.
Camp Upton was built during the summer of 1917 to help establish a standing army to serve overseas. The camp was named after Emory Upton, a major general for the Union Army during the Civil War. The first group of 2,000 men arrived in September of 1917. At the time, the camp was still being completed and wouldn't be finished until late December. It is estimated that around 40,000 troops served at Camp Upton at some point during the war.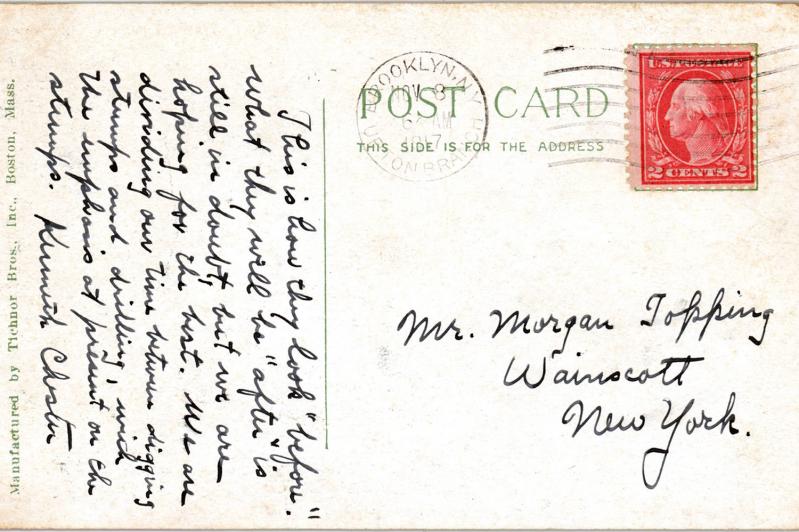 ---
After the war ended, the location was used for demobilization for veterans and then deactivated around 1920, until it was needed again in 1940. During World War II the camp was used for military training and the internment of Japanese-Americans until the induction center was relocated to Fort Dix in New Jersey. The camp was turned into a rehabilitation facility for returning veterans in 1944. Once the fighting overseas ceased, the camp fell into disuse and many ideas circulated about what to do with the grounds.
A proposal for a research facility was finally approved, and Brookhaven National Laboratory opened in 1947. The lab became a place for scientists and universities to conduct atomic energy research and other scientific exploration. It has thrived for more than 70 years, producing groundbreaking research across many fields of science.
---
Mayra Scanlon is a librarian and archivist in the East Hampton Library's Long Island Collection. Questions about the collection or the "Item of the Week" can be directed by email to [email protected].