Hadley Vogel's East Hampton Ties That Bind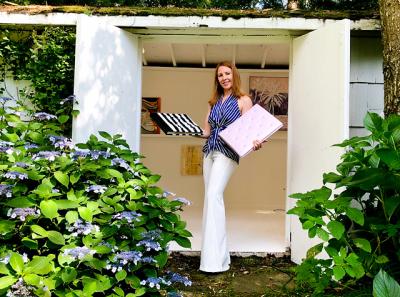 Paul Vogel
Keeping up the Shed
On a late June afternoon, Larissa Lockshin's clay sculpture "Ruby Slippers" beckoned guests into a backyard that has been transformed as an art installation. An implied yellow brick road led to an unassuming building that has made a significant mark in the art world since it was launched as the exhibition space East Hampton Shed seven years ago.
Leading the endeavor is Hadley Vogel, whose parents, Paul and Abigail Vogel, own the property. Her eclectic background and interests include art making,  exhibition space management, teaching preschool, and — in keeping with her father's line of work — bookbinding.
Recently, Ms. Vogel has started to unify her different metiers in ways that imply something transformational, a cross-pollination already generating new hybrids.
Until last year, the Shed's exhibitions had relied on an ever-evolving partnership between Ms. Vogel and Nate Hitchcock. "We started this in 2012 and the whole thing is so intimate and personal," she said while giving a tour of the current exhibition, "Moondog," a celebration and reunion of all the artists who have exhibited with them either in the space or at art fairs.
Although they were dating at the beginning of the partnership, it continued through other relationships, relocations, family illnesses, marriages, and engagements. The idea to show art in this bijou space came from Landon Metz, a friend of Mr. Hitchcock's from preschool, who visited them at the East Hampton house, where her mother had set the shed up as an open air bedroom. Joking, Mr. Metz said he wanted to show there; Mr. Hitchcock liked the idea and they went forward.
"Nate has a really great eye. He chose most of the artists we put in the shows," Ms. Vogel said. After he moved on, it took a year to figure out how to continue it in the way she wanted. Last winter, she decided to have a reunion show. "I wanted to reinvigorate people's curiosity. Over the last six years, there's been so many great artists who have shown here and I wanted to remind people that we're here, and I have my finger on the pulse — or Nate did — but I'm going to keep that going."
Even so, "It's going to move into a new direction. I don't have the foresight to say this person's art is what everyone will want, but we can all build on that," she said. "Some of our artists have become untouchable in their popularity, but they still want to show here."
During this same period, Ms. Vogel helped support her father's business, started her own bindery in Queens, and began offering bookbinding classes for adults and children, all while commuting between New Jersey and Long Island City, and East Hampton on weekends. She also began a series of artist collaborations, where she would make a book based on content the artist provided.
For the "Moondog" exhibition, she has produced books with two artists. Brian Kokoska and Ms. Lockshin. Ms. Lockshin's binding is pink and dotted with tiny studs to look like quilting, which complements her floral abstractions. Mr. Kokoksa's book is covered in black and white stripes and stretched over a polymer clay that gives three-dimensional form to the motifs of the drawings within it.
In her own bookbinding, she has incorporated a longtime interest in fashion. Her books, boxes, passport holders, and other luxury goods employ accents such as mink dyed in Day-Glo colors, leather barbed wire, piercings, tattoos, and other edgy touches.
Her aesthetic is often inspired by found and repurposed objects and scraps from her father's commissioned projects. "I wouldn't be in the bookbinding business without him." His studio has always been in the house, first in the basement and then a renovated garage next to the kitchen. During busy times, it was all hands on deck, and she and her mother became de facto apprentices. "Yeah, I had no choice, it was 'Hadley get in here,' " she said with a laugh.
"At Christmas time he gets orders that are very repetitive, like 100 books for a publishing house that they give to best-selling authors and celebrity authors as a present. It was redundant enough that he could show me one step, and then I would be able to do it over and over."
She made her first book at the age of 10. It recorded her attendance at church and became a scrapbook of sorts. 
As a Ross School student from 8th through 10th grade, she devised an internship with her father one semester. "I made a book and documented everything we did. We took a lot of trips" to the Grolier Club and other different book clubs in addition to the Morgan Library, the Metropolitan Museum of Art, and the Cloisters to look at their medieval manuscripts.
At Columbia College in Chicago, she tried fine art, but ended up studying art history. She began her curatorial and exhibition management career in Chicago and then at the Shed. Last year, she returned to the fold to help out while her father was ill. Then, she had an opportunity to take some of his extra equipment and set it up in a space in Long Island City, which became the Queens Bindery.
There she makes books, desk and personal accessories, signs, business cards, and other items. "One of the differences between what my dad does and what I do is that someone will ask for something specific and then he'll make it for them. I make things like that as well, but I also like to play around."
In traditional luxury binding, archival materials, which remain pristine, are the sine qua non. Such materials are not necessarily for her. "The materials I use for my clients' projects are all archival, but the skins I use for mine are not necessarily archival, because I can't get the same color or treatments in archival materials." She uses archival-quality tape and glue, however, for both types of projects.
Comparing work done on computers to books, which imply permanence, she said, "Things on a computer can always be altered and deleted. I wonder if there will be a little renaissance with book- binding. It's both a luxury good and a physical thing you can hold," she said.
"I don't know if being archival is that important to me. We're not living in a very archivally minded society, especially when we're buying things." She also works with a lot of artists whose work will take much effort to preserve. "It's not about how it will look in a certain amount of time, but how we're all relating to these objects now."
"Moondog" is on view through Sunday. Opening on Friday, July 27, is "Tiny People," an exhibition of work by Abby Lloyd and Chris Retsina.