As if to underscore the validity of her words, Greta Thunberg twice interrupted her remarks to call for heat-related medical attention for one of the youthful mass gathered under the late-summer sun in Manhattan's Battery Park on Friday afternoon, the 16-year-old climate activist's appearance the culmination of the Youth Climate Strike that drew tens of thousands of students, some of them from East Hampton.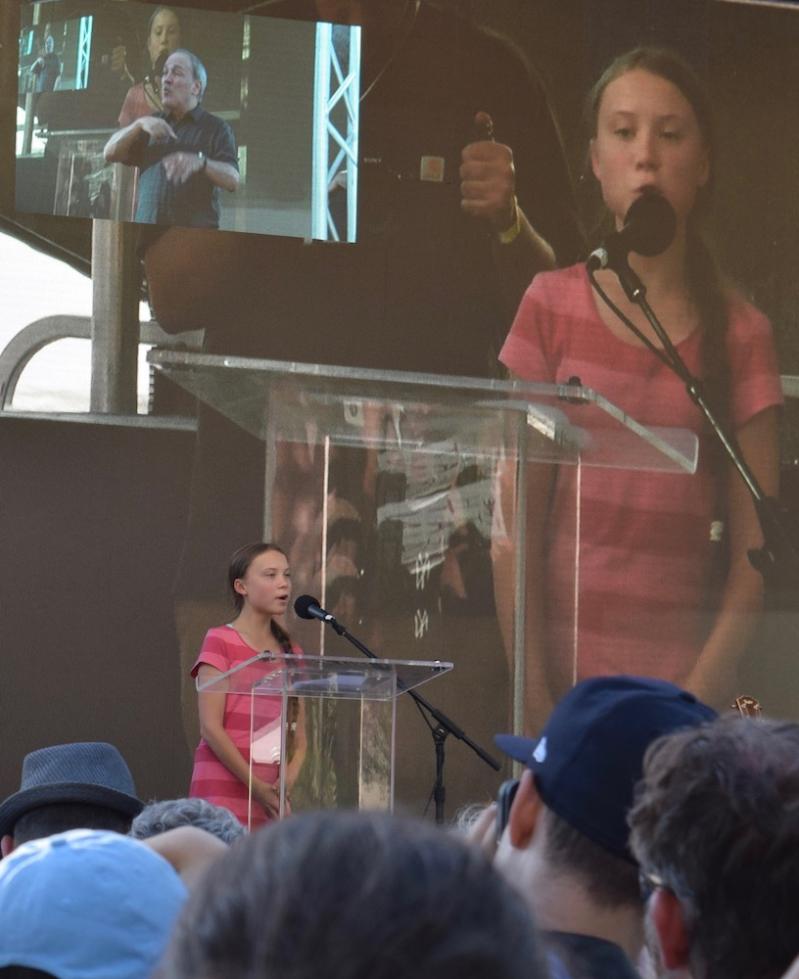 Ms. Thunberg, who began a Friday school strike to protest governmental inaction on climate change in her native Stockholm last year, has galvanized youth around the world to demand action on climate change amid increasingly dire warnings that time is short to avert the catastrophic effects of a warming planet. 
Before thousands of boisterous admirers, she was stoic, the eye in a hurricane of humanity before her. "Why should we study for a future that is being taken away from us, that is being stolen for profit?"the teenager asked the throng of her peers standing before her. "Some people say we should study to become climate scientists or politicians so that we can, in the future, solve the climate crisis. But by then it will be too late. We need to do this now!"
New York's Youth Climate Strike, ahead of Saturday's Youth Climate Summit at the United Nations and the climate conference at this week's U.N. General Assembly, was one of more than 150 around the world, a protest observed on every continent. "Even on Antarctica, people are striking!"the diminutive Ms. Thunberg thundered. 
Some 30 students walked out of East Hampton High School on Friday to observe the strike. Others from the South Fork traveled to New York by bus to attend the gathering that Mayor Bill de Blasio's office put at 60,000 but organizers said was closer to 250,000. 
"I'm here because I'm fed up with climate change and our government, and I think there needs to be a change,"Gigi Lama, a ninth-grade student at the Ross School in East Hampton, said at Foley Square, where the strikers had gathered before the march to Battery Park."This is a really great way to support this cause."
Gigi had traveled on the bus with her mother, Andrea Grover, the executive director of Guild Hall in East Hampton, who was inspired to organize the trip after attending "The Youth Climate Movement Could Save the Planet,"the Hamptons Institute panel discussion on Aug. 5 at Guild Hall. Generational solidarity was a theme at that event, which featured a 14-year-old New Yorker who has held a climate strike outside the U.N. headquarters for close to a year and a 17-year-old activist from Washington, D.C., alongside adult panelists.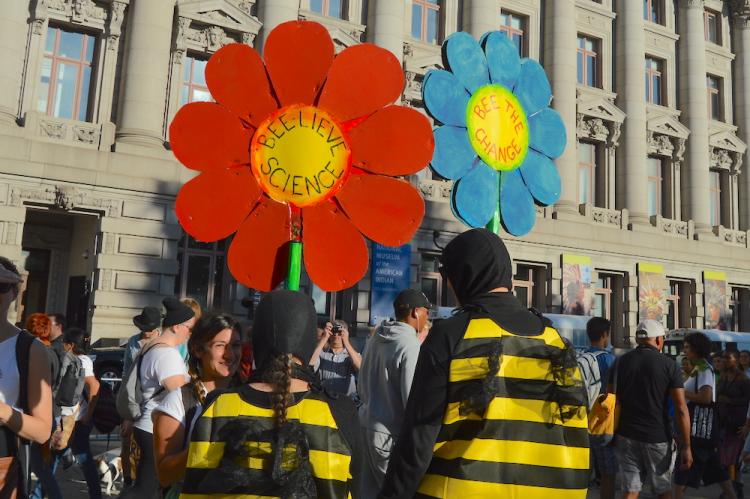 The youth activists, Alexandria Villasenor and Jerome Foster, "Were my wakeup call to action,"Ms. Grover said. At ages 14 and 17, Alexandria and Jerome are dedicating each day to public speaking and peaceful protest to prevent climate disaster."Her daughter is an activist too, she said, "and that night I made a promise to her that I would take action. Because of Gigi, Alexandria, and Jerome, I decided to charter a bus to the Youth Climate Strike and with the help of a local activist, Dorothy Reilly, we filled it."
"I'm here to make a future for myself and for my future kids,"said Sierra Brown, a ninth-grade student at East Hampton High School. Ms. Brown attended the strike with her mother, Teri Brown. "It's going to take a sacrifice,"the elder Ms. Brown said of addressing and mitigating climate change, which scientists say requires a rapid and steep decline in fossil-fuel emissions. "We're going to have to face the fact that it's going to take a sacrifice."
Susan McGraw Keber, a town trustee who serves on the trustees'education committee, said that she was inspired by the "energy, enthusiasm, and determination of the youth activists who are standing up for the earth. It was a remarkable and wonderful day,"she said. "It was very moving, the unity of everybody."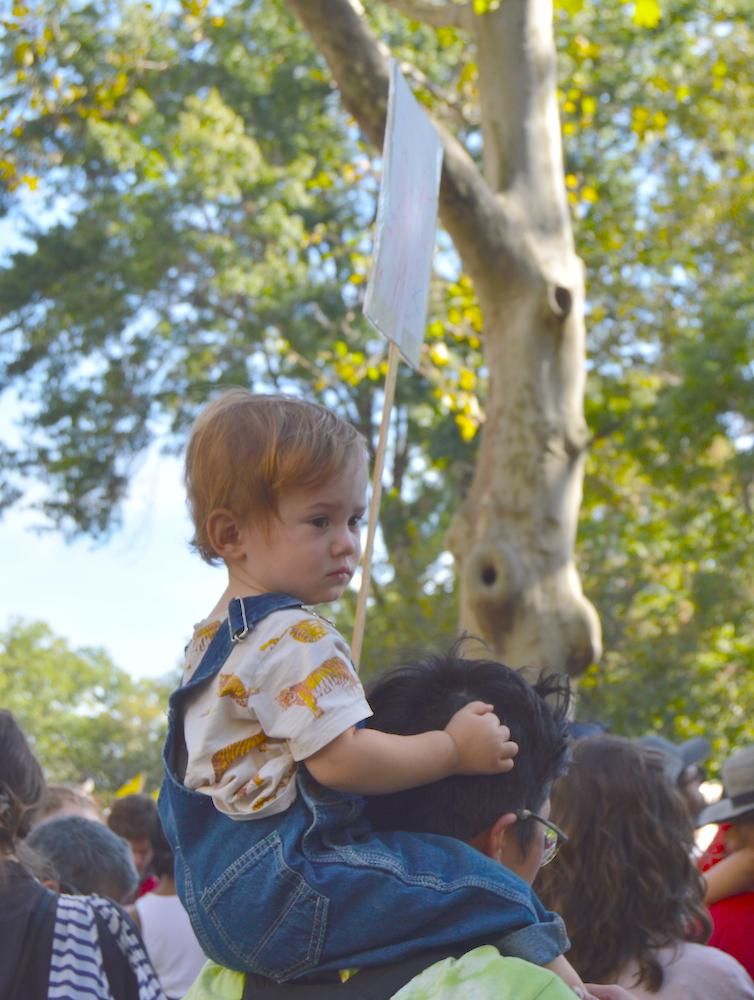 "The energy of the youth was so overwhelming, it made me cry,"said Yuka Silvera of East Hampton. "Greta is a lightworker,"she said, a term for a spiritual being sent to heal. "I am very hopeful that they will save the earth."
"I went to be counted,"said Don Matheson of East Hampton, who is a member of the Long Island East chapter of the group Citizens Climate Lobby. "Time is running out on climate, and Greta Thunberg has sparked a fire in young people all over the world. The young people being sent as cannon fodder to Vietnam in the sixties were the ones who made the government face facts. Similarly, youth today have no option but to persist until the barriers are broken down, or there will be no life left to live."
Mr. Matheson is 71, "and I'm very ashamed of the mess my generation is leaving behind,"he said. 
"It was absolutely the best experience and the first time in years that I felt optimistic about the state of the planet,"Ms. Grover said after the event. "The energy, playfulness, and anger of these young people was powerful and I have no doubt that they won't settle down until a sensible climate policy is in place."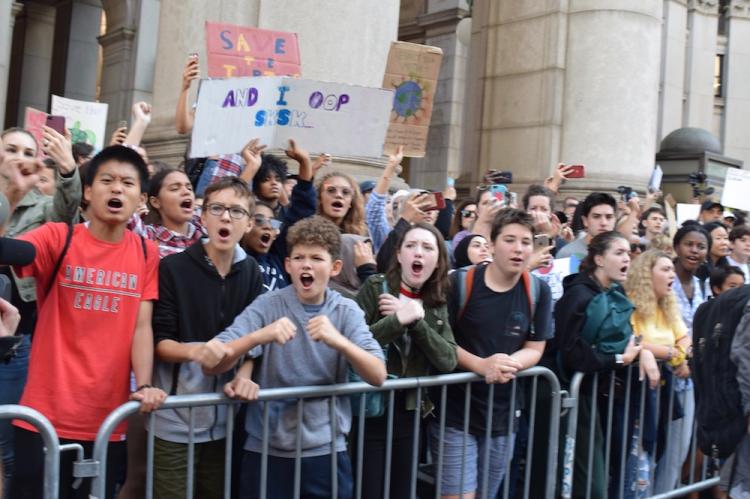 Bearing signs with slogans like "Change the system, not the climate,""There is no Planet B,""Denial is not a policy,"and "The house is on fire,"the strikers made their way through the streets of Lower Manhattan, where seven years ago Superstorm Sandy caused massive flooding and extensive damage to the city's financial center and infrastructure. With projections of future inundation due to sea level rise, in March Mr. de Blasio proposed an adaptation effort, using landfill to artificially extend the southern tip of Manhattan into the East River. The estimated cost: $10 billion. 
World leaders, Ms. Thunberg told the crowd at Battery Park, would gather at the U.N. on Monday. "The eyes of the world will be on them,"she said. "They have a chance to prove that they, too, are united behind the science. They have a chance to take leadership, to prove they actually hear us. Do you think they hear us?"
"No!" was the roar from the crowd. 
"We will makethem hear us!"she answered, to sustained cheers.