X-Files, Montauk Style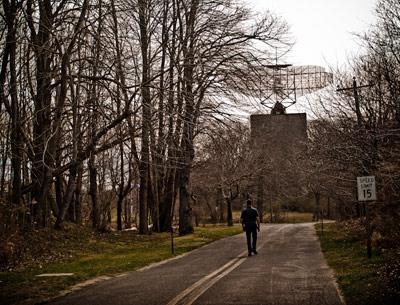 "If I had known that there were nefarious goings-on at the Air Force base where I swam each summer, I would have been thrilled"
   Christopher Garetano, the producer and director of "Montauk Chronicles," which will have its premiere at Gurney's Inn tomorrow, admits that as a teenager he was "obsessed with the paranormal."
    "If I had known that there were nefarious goings-on at the Air Force base where I swam each summer, I would have been thrilled," he said. "Montauk Chronicles" is a docudrama that features three men who claim they were subjected to secret experiments featuring aliens, mind control, and time travel in the 1970s in a secret bunker deep beneath the ground at the Camp Hero Air Force Base in Montauk.
    For his film, Mr. Garetano tracked down and interviewed Alfred Bielek, Stewart Swerdlow, and Preston Nichols, who have written books about their experiences, most notably "The Montauk Project."
    "I wanted to meet them in person, in their homes, in their own environments. The book seemed to be extremely far-fetched," Mr. Garetano said. "But I considered the possibility. It was hard at first to hear these men, grown men, talking about monsters and aliens with a straight face. But I wanted to capture their stories on film."
The director acknowledged that he didn't believe the men at first. "But they weren't gaining anything from their stories; there was no financial reward for them. They are just consistently setting themselves up to be ridiculed, and this has been going on for decades."
However, a funny thing happened while filming. "It really affected me," Mr. Garetano said. "The subject matter is about how all this stuff is going on beneath the surface, it became a broader scope than just concentrating on these guys and their stories. I'm not a conspiracy theorist, but I found I was becoming really paranoid while making the film."
    "The power of suggestion is really strong sometimes."
    In addition to the interviews, " 'Montauk Chronicles' illustrates all the stories, explaining where Montauk is, a little history," he said. Much of the film was shot in and around Montauk.
    Mr. Garetano, who grew up in the Huntington-Northport area but summered in Montauk every year, spent over five years making "Montauk Chronicles." He shot the initial interviews in 2006 and 2007, and was still editing the finished version in December. "It was just me and a camera and no money," he said. "I'm the one guy who did it all."The School of Visual Arts film graduate has put in his time on large Hollywood movies, but feels that independent films, and their directors, have considerably more freedom. "There's a rigid sensibility in today's big films," he said. He added that the audience for small films is growing all the time.
    Camp Hero, the former base, was opened as a state park in 2002, but Mr. Garetano said that it has rules unlike other state parks, which go toward validating the stories told by the trio. "That huge radar tower is still there," he said. "Along with all those big doors, and cement bunkers." Camp Hero also has aboveground manhole covers that lead into the deep recesses buried beneath the cliffs and a supposed underground tunnel system. Mr. Garetano recalled the eerie feeling that he, and many acquaintances, have had when visiting the spot.
    "And the park brochure says not to use a cellphone because of the unexploded ordnances, but really," he said with a laugh, "if you were the U.S. government, would you allow tourists to walk around where there were unexploded land mines? And count on them to not use their cellphones?" Mr. Garetano has heard claims that "there's still stuff going on in that base underneath the base."
    The world premiere of "Montauk Chronicles" will be held tomorrow at Gurney's Inn, at 7:30 p.m. The screening will be followed by a question-and-answer session and panel discussion featuring Mr. Garetano and several of the film's subjects, including Mr. Swerdlow and Mr. Nichols.