Poetry and Pugilism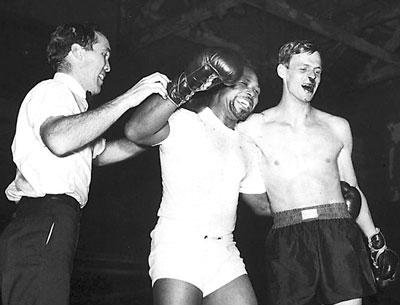 By Peter Wood
 "At the Fights"
Edited by George Kimball
and John Schulian
Library of America, $19.95
   Boxing has inspired memorable prose from many gifted writers, and many of those writers have hailed from Long Island's East End — George Plimpton, Budd Schulberg, Mike Lupica, Robert Lipsyte, A.J. Liebling, Wilfrid Sheed.
    The prizefighters they write about are a colorful tribe. Above — or below — all other athletes, prizefighters are a driven lot. When did you last hear of a football, baseball, or basketball player called "hungry"? A.J. Liebling pointed out that while one might play baseball, football, or basketball, nobody "plays" boxing. The former heavyweight contender George Chuvalo once said, "You don't bring boxing gloves to a picnic."
    In this fine boxing anthology, John Schulian, one of the editors, calls "boxing, prizefighting, the sweet science, the fight game . . . the best friend a writer ever had. . . . There is an undeniable jolt to watching violence in the ring, an almost electrical charge composed of equal parts beauty and savagery, and it can stir the poet in a writer who doesn't­ realize he has poetry in him."
    In every story of "At the Fights," poetry meets pugilism, eloquence meets brutality, and brains meet brawn. The history of boxing is wonderfully artful and gruesome. And these writers bring beautiful prose to this ugly sport. For 3,000 years, from Homer to Ernest Hemingway, Plato to Priestly, and Virgil to Robert Lipsyte, writers have been concerned with man in the most fundamental form of competition, in the most completely expressive of the arts.
    Regrettably, however, today's boxing and yesteryear's literary journalism did not reach their peaks at the same time. Today's boxing fans live in a twilight era after Muhammad Ali, and before him, Joe Louis, and before him, Jack Dempsey.
    Mike Tyson? David Remnick of The New Yorker writes of Tyson in "Kid Dynamite Blows Up," ". . . he was briefly burning as a heavyweight comet . . . and a tragicomic figure." Joyce Carol Oates offers her opinion of Tyson in "Rape and the Boxing Ring": "He will be remembered less for his seemingly limitless promise and ultimately squandered talent than for two other life-defining moments, one out of the ring and one in it," the one in it involving a chunk of Evander Holyfield's ear.
    But the ring has always been a refuge for the extraordinary Mike Tysons of the world. The pattern of social and economic persecution in this country is traced in the names and records of the great Irish, then Jewish, Italian, and black fighters who have graced the sport.
    The boxing writers in this anthology find the ugly beauty of a sport that pits one man against another unprotected by armor and bereft of any weapon save his own fists. Boxing is a brutal sport and it reveals brutal truth. Truth is revealed in John Schulian's remembrance of Johnny Bratton, a fighter who had everything inside the ring and out until — bam! — he lost it. Now we see Johnny hanging around the lobby of a seedy South Side Chicago hotel, just keeping out of the rain. There is no better listener than Schulian to memorialize him.
   There's ugly truth in Jack London's "Johnson vs. Jeffries." He gives us a 1910 ringside seat and breathes life into the historic Jack Johnson-Jim Jeffries bout held in Reno, Nev.
    Katherine Dunn's riveting exposé "The Knockout: Lucia Rijker" is as honest as the award-winning film "Million Dollar Baby" was successful.
    My appreciation goes out to George Kimball and John Schulian for giving us an eloquently honest boxing book that appears at a time when boxing is at its lowest ebb in the history of the sport. The stories in this book may ease the sorrow and pain of a dying sport — a sport I, for one, once loved.
    Like David Sedaris, I like nonfiction books about people with wretched lives. The worse off the better. Everybody involved in boxing — the fighter, the manager, and the promoter — is a little bit off. When I boxed, I was a bit demented. That was my strength — my craziness. That's why boxing is such a fascinating topic — it's a dystopia. Boxing is where an angry soul rises out of his own smoldering slum in order to be exploited by a grasping, greedy sycophant.
    When I was fighting, boxing was left hooks, uppercuts, and right crosses — it was my beauty. What daffodils were for Wordsworth, a knockout was for me.
    There is no clear binding storyline in "At the Fights." The stories simply spotlight the virtues and vices of great champions: Jack Johnson, Muhammad Ali, George Foreman, Roberto Duran. There are stories about lesser champions and contenders — tragic Sonny Liston and gut-wrenching Ray Mancini. Colorful celebrities are sprinkled throughout: Malcolm X, David Merrick, Eddie Arcaro, Fatty Arbuckle, Jim Brown, Frankie Carbo, and Dizzy Dean. All hint at their own virtues and vices.
    While reading this collection, with its inherent beauty-violence, I felt a kind of joy exuding from within me. Reading creative language is joyful. Traveling back in time is joyful. I suspect readers will discover their own joy reading this book.
    George Plimpton, who lived in Sagaponack, had his nose bloodied by Archie Moore, was tackled by Alex Karras, pitched to Willie Mays, lost at golf to Sam Snead and at tennis to Pancho Gonzales. Plimpton was a "professional amateur" whose unique balance of insight and self-deprecating humor is evident in "Miami Notebook: Cassius Clay and Malcolm X." In it, we meet King Levinsky, "a second-rate heavyweight in his prime (he was one of Joe Louis's bums of the month) who fought too long, so it had affected him, and he is now an ambulatory tie-salesman." Plimpton, sitting at a luncheonette table, recounts Malcolm X's perspective on a young Cassius Clay: "Clay is sensitive, very humble, yet shrewd — with as much untapped mental energy as he has physical power. He should be a diplomat."
    Mike Lupica of Bridgehampton, the Daily News columnist and ESPN commentator (when not playing a scrappy shortstop in East Hampton's Artists and Writers Softball Game), gives us "Donfire of the Vanities." Here we meet a nightmare named Don King. It is a scathing glimpse of a man who spent 3 years and 11 months in jail for manslaughter. From his brownstone on the Upper East Side of Manhattan, we hear King brag, "I watched the first Ali-Frazier fight in prison and I promoted the third one." The heavyweight champion Larry Holmes, one of many boxers who say King has cheated them, says of King, "He looks black, lives white, and thinks green."
    "King," writes Lupica, "is one of the most remarkable figures in the history of sports. And he could have become the important black voice he desperately wants to be. Up close to King, you see the brains, you see the charm, and you see the passion. Ultimately, though, you have to see the hustler in him. The man is full of anger. It is more impressive than his whole range of thought, from Hitler to the Bible." There is much dysfunction in Don King.
    Boxing is dysfunction.
    The last best look America got at Dick Schaap, who died in 2001, was when he was reining in the runaway egos on ESPN's "The Sports Reporters." Schaap's "Muhammad Ali Then and Now" is an early snapshot of a young Cassius Clay. He writes: "It is ridiculous, of course, to link presidents and prizefighters, yet somehow, in this case, it seems strangely logical. When I think back to the late summer of 1960, my most persistent memories are of the two men who wanted to be president and of the boy who wanted to be heavyweight champion of the world. And he was a boy — a bubbling boy without a serious thought in his head, without a problem that he didn't feel his fists or his wit would eventually solve."
    Shelter Island's Robert Lipsyte, the author of a boxing-themed novel, "The Contender," gives us "Pride of the Tiger," a gem about Dick Tiger of Nigeria, a forgotten middleweight champion who encounters more violence outside the ring than inside.
    Budd Schulberg, who lived in Quiogue, was the only man to be both a winner of an Academy Award (for "On the Waterfront" in 1954) and an inductee into the International Boxing Hall of Fame. In "The Fight (the King Is Dead), " Schulberg catches lightning in a bottle when describing the 1921 Benny Leonard-Richie Mitchell bout held in the old Madison Square Garden.
    There is the muscular prose of Norman Mailer in an excerpt from "The Fight," describing Ali and Joe Frazier; the biting, hyperbolic wit of H.L. Mencken in "Dempsey vs. Carpentier," and the incisive analysis of Joyce Carol Oates in "Rape and the Boxing Ring." "Boxing is for men, and is about men, and is men," Oates writes. "A celebration of the lost art of masculinity all the more lost for being lost."
    Perhaps boxing is lost. Or maybe it's just anachronistic. I don't attend fights much anymore; it's a young man's sport, and I'm no longer a young man. But this book resurrected something youthful inside me. My blood ran faster, I could hear the crowds, and I felt the punches, all while sitting safely in my comfy chair.
    As a writer, the insightful writing in this book made me jealous. But "At the Fights" rekindled my respect for boxing and for boxers. Ah! The pen is mightier than the sword, or in this case, the boxing glove.
    Peter Wood, who lives in East Hampton, is the author of "Confessions of a Fighter" and "A Clenched Fist." He was a middleweight finalist in the 1971 New York City Golden Gloves and selected to represent America in the Maccabiah Games held in Tel Aviv, Israel, in 1977.