Waking Up to the Reality of Climate Change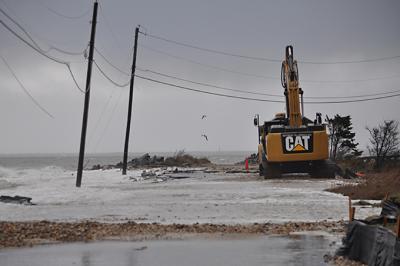 David E. Rattray
Storms, flooding, pests; it's not just a theory
It was an opinion piece, but the headline of David Leonhardt's New York Times essay of Sunday sounded definitive: "The Story of 2018 Was Climate Change." 
"Extreme weather in 2018 was a raging, howling signal of climate change," The Washington Post wrote on Monday, citing record rainfall, flooding, temperatures, and wildfires around the world, as well as extreme storms. 
NBC's "Meet the Press" devoted its entire program on Sunday to discussions about climate change, and pointedly did not include voices from the tiny minority of climate scientists who deny its existence. 
"The story of climate change in 2018 was complicated — overwhelmingly bad, yet with two reasons for hope," Mr. Leonhardt wrote. "The bad and the good were connected, too: Thanks to the changing weather, more Americans seem to be waking up to the problem." 
Two weeks before Mr. Leonhardt's column was published, East Hampton Town Supervisor Peter Van Scoyoc made the same observation. "The science on global warming was actually put to bed in 1979, just for people to understand how long it takes to get a concept to take hold," he said. ("Carbon Dioxide and Climate: A Scientific Assessment," published that year by the National Academy of Sciences, concluded that rising CO2 levels in the atmosphere would cause warmer air temperature in the troposphere, and found "no reason to doubt that climate change will result" from that rising concentration, "and no reason to believe that those changes will be negligible.")
Four decades later, the concept "is taking hold now," Mr. Van Scoyoc said. "People are starting to understand it, and they're also seeing the changes in their own neighborhoods."
Though the South Fork has been spared a hurricane in recent years, the signs of a warming world are difficult to miss in East Hampton. "I see it every day," the supervisor, who lives in Northwest Woods, said. "I see the devastation of the [southern] pine beetles on my property. I see the eroding beaches — and it's not just Montauk; in fact, there's probably too much focus on Montauk." In Springs, "Gerard Drive is continually getting washed out, not even by large storms. You go along up in the bay and see beaches there that have basically disappeared now. The water's coming up, and the storms are getting worse." 
"I've noticed, inside Lake Montauk, the beaches are less wide, shorter," Ed Michels, the town's chief harbormaster, said last month. Among the myriad responsibilities of the Marine Patrol Department, which he leads, is maintenance of docks and launch ramps. "The pilings that, at high tide, used to still [have] plenty of pole left are now getting too short," he said. "We're going to have to start changing pilings" because of sea level rise. 
Hurricane Sandy, in 2012, was an extreme event. Today, however, "for regular northeasters, we have water over the dock at the head of the harbor," Mr. Michels said of Three Mile Harbor. "The water level has been higher, absolutely. Higher tides are higher. That's a bit of a concern for us," not least the prospect of floating docks surging over pilings, he said, or seawater inundating the dock-mounted electricity supply pedestals common at boat slips. "It wreaks havoc." 
"We have some big marine infrastructure projects going — the jetty at Three Mile Harbor, the jetty at the Sammy's Beach breakwater," and, in 2019, "a long stretch at head of the harbor," Mr. Michels said. Some years ago, he recalled, a small length of bulkhead there was patched with sheathing to extend its life. "Now we're ready to start working on that, but I'm being told by our engineers that it's below grade now." 
"We've made it part of our priorities, when we redo any bulkheads, to raise the level by at least a foot," said Mark Mendelman, vice president of Seacoast Enterprises Associates, which operates four marinas and two boat yards on Three Mile Harbor. "If we can, we try to go higher. We're definitely seeing more evidence" of sea level rise, he said, including "the frequency at which we get water in the parking lot, water coming up over the bulkheads."
"We had four serious northeasters last year," said Bill Taylor, the town's waterways management supervisor and a town trustee. "We're getting bigger rains. I think the commercial dock was under water once already. These things that happened every 15 years are happening every year now." 
Fish species are migrating northward, Mr. Taylor said. "Yes, it's really happening: Look at lobsters. They used to be all over here. They didn't really die off, they just moved north. In Maine, Massachusetts, there's a bounty on them. They're moving up in Canada." 
"Fish vote with their fins," he said. "They swim to where the water temperature is right. As far as global change, we're in the most premier fishing spot, practically, in the world. When you're in the best spot, change is not your friend."
There may be multiple factors in play, said Rebecca Young, a nurse at the Tick-Borne Disease Resource Center at Stony Brook Southampton Hospital, but a warmer climate means that ticks are more active during the winter. "I see more tick bites throughout the year than there used to be," she said yesterday. Ms. Young fielded more than 1,000 calls about tick-borne illnesses last year, she said, and more people were admitted to the hospital, "not with Lyme disease necessarily, but maybe with co-infections," as the deer tick can carry several diseases, including babesiosis. "It seems like it's increasing: more tick bites, more antibiotics distributed . . . and more people admitted to the hospital with infections."
"Tide gauge and satellite measures of water level document that global [sea level rise] acceleration is occurring and that the Atlantic Coast between Boston and Cape Hatteras is a 'hot spot,' " according to "Anthropocene Survival of Southern New England's Salt Marshes," published in 2016. "While relative sea level has been rising since the Last Glacial Maximum," around 20,000 years ago, "rates of [sea level rise] for the U.S. Northeast and Mid-Atlantic region are accelerating significantly faster than rates for the U.S. Pacific and Gulf Coasts." 
"At the height of glaciation, sea level was about 100 meters lower than today," said Scott Warren, the Tempel professor of botany emeritus at Connecticut College in New London and a co-author of the study. Initially, as glaciers melted, it rose one-half to one centimeter per year on average, he said, slowing to around one millimeter per year around 4,000 years ago. "Probably in the mid-1800s it began to speed up again," from around one millimeter to between 2 and 2.5 millimeters. Though causality is uncertain, "It certainly is coincident with the first stirrings of CO2-induced climate change," he said. 
Then, "between 1980 and 1990 it began to accelerate. Let's say the mid-1980s to now — 30 to 35 years — it's been going up double again, about four to five millimeters per year, and shows no sign of going down. We know that at least part of the sea level rise is due to thermal expansion of the top 100 meters of the ocean. Warmer water is bigger water: Things expand when they get hot." Melting of terrestrial glaciers is also responsible, he said, as is the melting of the Greenland and Antarctic ice sheets. 
Even if the steep reductions in CO2 emissions urged in the Intergovernmental Panel on Climate Change's October 2018 report were to begin immediately, "There's a lot of global warming baked in to what we have done already," Mr. Warren said. "There's a lot more heat in the ocean than we thought. That's probably going to accelerate the melting, or the movement, of some of the Antarctic glaciers. It certainly is accelerating the melting of the Greenland ice sheet. This is not going to slow down for a while."
Inevitably, he said, as sea level rises, "salt water is going to push farther into brackish and freshwater marshes. Certainly in a place like Long Island, that has the potential to raise significant problems in groundwater." 
Long Island, Mr. Warren predicted, will experience nuisance flooding such as that routinely occurring in Miami Beach. "I don't know the exact topographic details of the roads, but some of them aren't very high above sea level. Sound Avenue," on the North Shore, "surely isn't. I'd be concerned if I had a septic system close to the shore. . . . People with lawns right down to the edge of the water are going to find they're mowing salt-marsh hay, or some wet stuff," he said. "It's not going to be so nice."  
In October, President Trump reversed his position on climate change, to a point, acknowledging that the climate is changing but adding that "it'll change back again." In fact, Mr. Van Scoyoc said, present patterns will not change. "It's going to be like this for years to come," he said. Nonetheless, he is optimistic. "I do think we have the capacity as human beings to figure out how to solve some of these problems and adapt," he said. "What kind of world do you want to have to adapt to, though? We have it pretty wonderful right now. We need to keep that perspective."