For Laurie Lambrecht, a Bridgehampton native, it was natural to choose the Madoo Conservancy in Sagaponack as the site for her Parrish Road Show exhibition. "I just thought the landscape there was something familiar to me, with all the things that I still love about this place — the sounds, the smells, the light."
"I photographed there a little in the early 1990s, but as far as working on this exhibition, I think really at the beginning of the year I started going over and walking a lot and looking at the bones of the garden, the trees and the structures and the layout of the landscape there."
"Limn to Limb," the result of Ms. Lambrecht's immersion in Madoo, which was established in 1967 by the late artist, writer, and gardener Robert Dash, will open on Saturday afternoon with a reception from 3 to 5 and continue through Nov. 3.
Known for her work
in photography and fiber,
Ms. Lambrecht spent 10 years designing and making sweaters before putting her graduate studies in photography to work in 1990 photographing Roy Lichtenstein in his New York and Southampton studios.
"When I was designing sweaters I worked with beautiful fibers and colors. I always kept my photography and my needlework or fabric and textile work so separate. At Madoo I'm joining them together in a way that's singularly meaningful to me. I've never worked with the outside being the end point or exhibition point, so it has been a fantastic challenge."
The exhibition consists of different components installed throughout the two-acre property. Her work of the past three years has been informed by her interest in the nuances of tree bark. The pieces in her "Bark Cloth" series consist of close-up photographs of trees, which are printed on linen and enhanced by hand embroidery.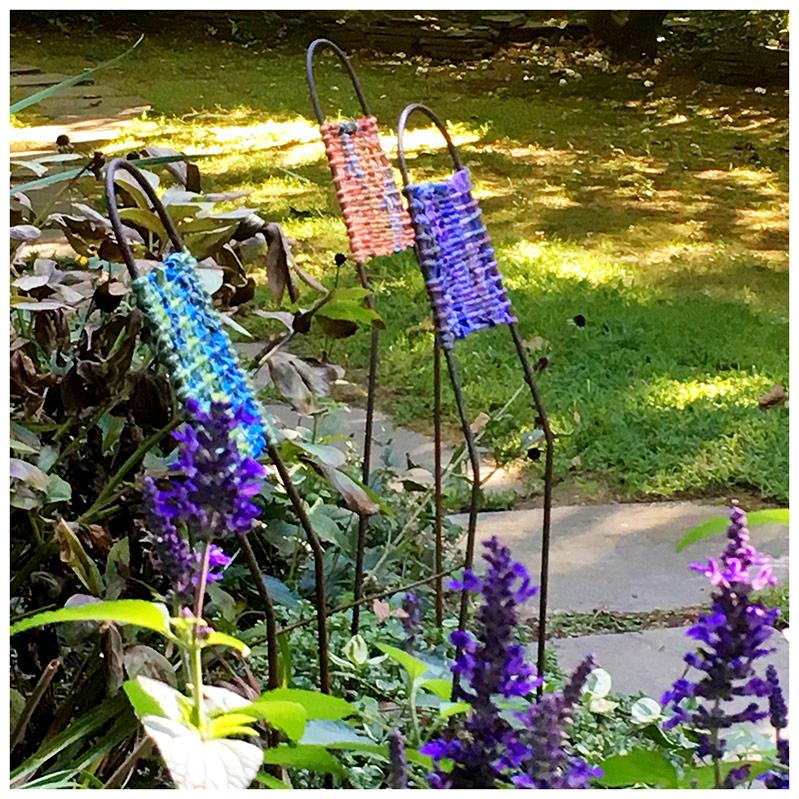 All of the tree bark prints in "Limn to Limb" were from trees at Madoo. Some will be installed on the façade of the main gallery building, while others will be wrapped around different trees on the property. "It's like rearranging the trees in a way," she said.
Weavings or tapestries based on photographs of flowers in bloom at Madoo during the summer will be displayed on the structures and trees there. Her photographs of the flowers taken in July were printed on linen and cotton. She then cut the fabric into strips and rearranged the colors into weavings.
"In a sense I've made these tapestries that record the summer. I was already thinking in my work about how so much is about memory and how we perceive things, and it's been a really interesting process to be working with colors when I know those colors don't exist in the garden anymore." In the tapestries, all that remains of the individual plants or their details are their colors and their relation to the colors around them.
Ms. Lambrecht has also worked her own variation on the plant identification markers typically seen in gardens and nurseries. She engaged the ironworker John Battle to create the armatures on which she threaded woolen weavings. The markers will be placed to obscure broken areas of fencing.
Last fall, while spending two months on the edge of a fjord in Norway, she collected rocks on the beach and wool from various local artisans who raised sheep, spun the wool, and dyed it.
"One day I was knitting little squares and I just started sewing them into the rocks. They're really sensually fulfilling. You put a rock in your hand and you don't expect it to be soft and warm and fuzzy, and you see something looking fuzzy and woolly and you don't expect it to be heavy and hard." Wrapped rocks will be placed throughout the garden, as will large bricks sheathed in photo-printed fabric.
Speaking of the rocks, she said, "It's like making little sweaters or coats for them. I've been thinking about what's going on in our environment and the whole idea of protection, and I think just having reverence for what's around us, even the little things, is important."
The exhibition is free and open during Madoo's public hours, Fridays and Saturdays from noon to 4 p.m.